Understanding investment account management tools

Get access to a host of investment account management tools that can help you get a greater understanding of your account(s) and how well your stocks are performing.

Access income details if you want to know how much income you're currently generating, and your forecast income in your Scotia iTRADE account(s). 

You'll be able to view:
Account holdings
Dividends/interest paid for each security
Dividends/interest scheduled for each security in the coming year
Historical cash flows based on actuals
Projected cash flows based on payouts declared
Projected cash flows based on historical trends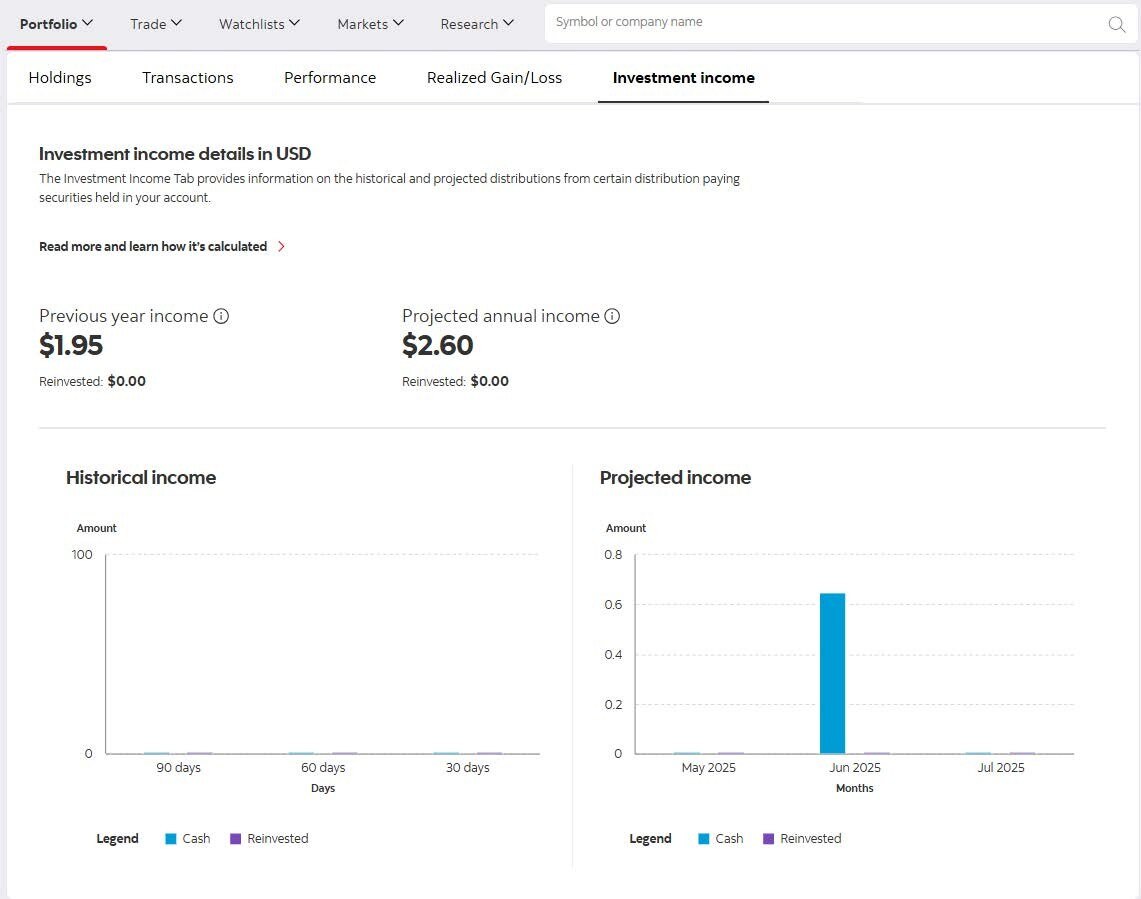 Chart the performance of your Scotia iTRADE account(s), and benchmark against some well-known indices with the Performance Reporting tool. 

Benefits include:
Select from two easy views which will allow you to see total performance over several periods (e.g. months), or net performance for each period.
Easily compare the performance of one account against your other Scotia iTRADE accounts or benchmark against well-known indices.
Save your chart preferences and apply these to your other Scotia iTRADE accounts.
Download the performance report as a PDF.
See our Performance History Guide for more information on how you can maximize this tool.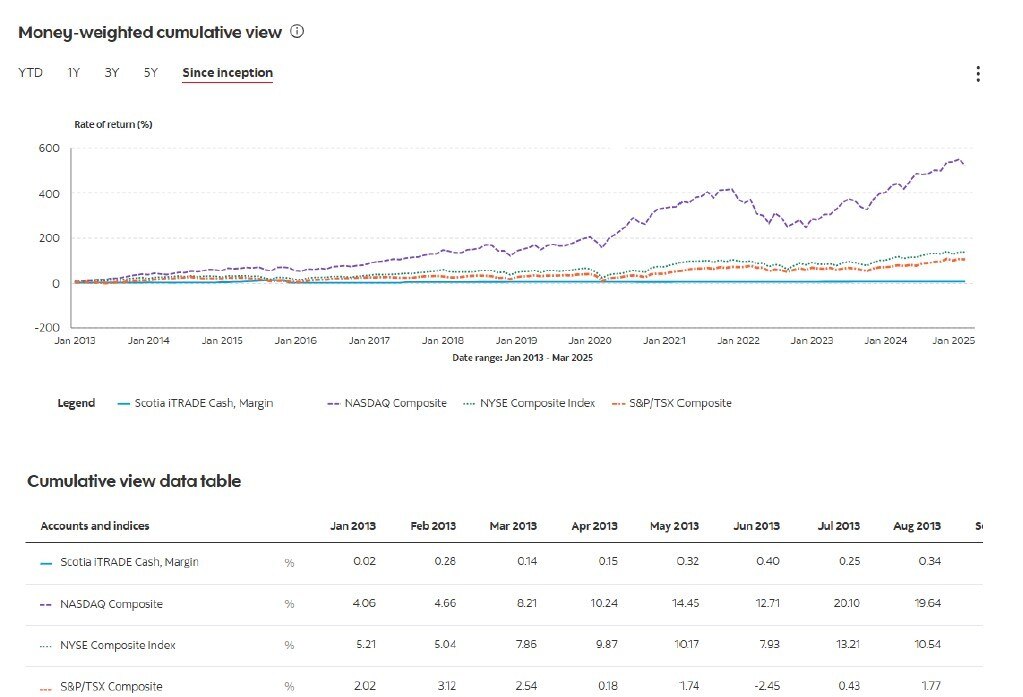 Get access to your realized gains and losses data at a top-line account summary level or at the transaction and/or security levels (based on a desired timeframe), so you can decide on the type of realized gains and losses information you want to review. You will only be able to review this information for securities which you have bought and subsequently sold (a settled trade).

Other benefits include:
Ability to check the profit or loss on settled trades
Can assist you in year-end tax reporting – You will no longer have to calculate your profits and losses manually over the year, as this information will be summarized in your realized gains and losses*
Realized gains and losses available and downloadable in CSV or PDF format
Log on to Scotia OnLine® and select your Scotia iTRADE® trading account in the drop-down account(s) menu where your Account Details are displayed. From here you can select from a number of tabs (Income Details; Performance; and Realized Gain/Loss) for summarized information and details on these criteria.


*
All dispositions of securities in non-trust accounts shown on monthly statements are reported to the Canada Revenue Agency ("CRA") and, for Quebec residents, the ministère du Revenue du Québec. You are reminded to report income or capital gains from these transactions on your annual income tax return and to keep this statement for income tax purposes. Scotia iTRADE® provides cost basis and associated realized gain and loss information to you as a courtesy service and for informational purposes only and is not for official tax purposes. Such information may not reflect all adjustments necessary for tax reporting purposes. You should verify cost basis and corresponding gain/loss information provided by Scotia iTRADE against your own records when calculating reportable gain or loss resulting from a sale. Data is available as of January 1, 2014. Realized Gains and Loss information affiliated with a Registered Account is for information purposes only, and it should not be filed with the CRA. Entry type 'CON' posted to a non-registered account is a contribution and it is considered a deemed disposition for tax reporting purposes. Consult your tax professional for further information. You are solely responsible for the accuracy of cost basis and gain/loss information reported to the CRA. Scotia iTRADE makes no warranties with respect to, and specifically disclaims any liability arising out of your use of, or any tax position taken in reliance upon, Scotia iTRADE- provided cost basis and gain/loss information.