Analyst research centre
An easy-to-use resource for powerful market research.

Our Analyst Research Centre provides powerful and extensive research coverage — from a variety of credible sources — to help you better control your trades and investments. Evaluate your potential for long-term investment success with a wide selection of Canadian and U.S. research.

Ability to monitor market events
Access a wide selection of broad-based research
Evaluate your potential for long-term investment success
Research on Canadian and U.S. markets1
Scotiabank Global Banking and Markets
View respected research from Global Banking and Markets for comprehensive company information, including financial analysis and investment outlook.
Center for Financial Research & Analysis (CFRA)1
CFRA is one of the world's largest independent investment research firms. Take advantage of their  qualitative and quantitative coverage of over 1,000 and 3,000 North American publicly traded companies, respectively.
Refinitiv1
Extensive company coverage, as well as analyst upgrades and downgrades.

Markit ResearchTeam Consensus Reports1
Independent research consensus from over a dozen providers with different ratings methodologies.
Experience a high-level view of how the markets are trending, according to leading analyst research. Download research reports, view stock ratings and statuses for the past day, 7 days and 30 days, and access research consensus select lists.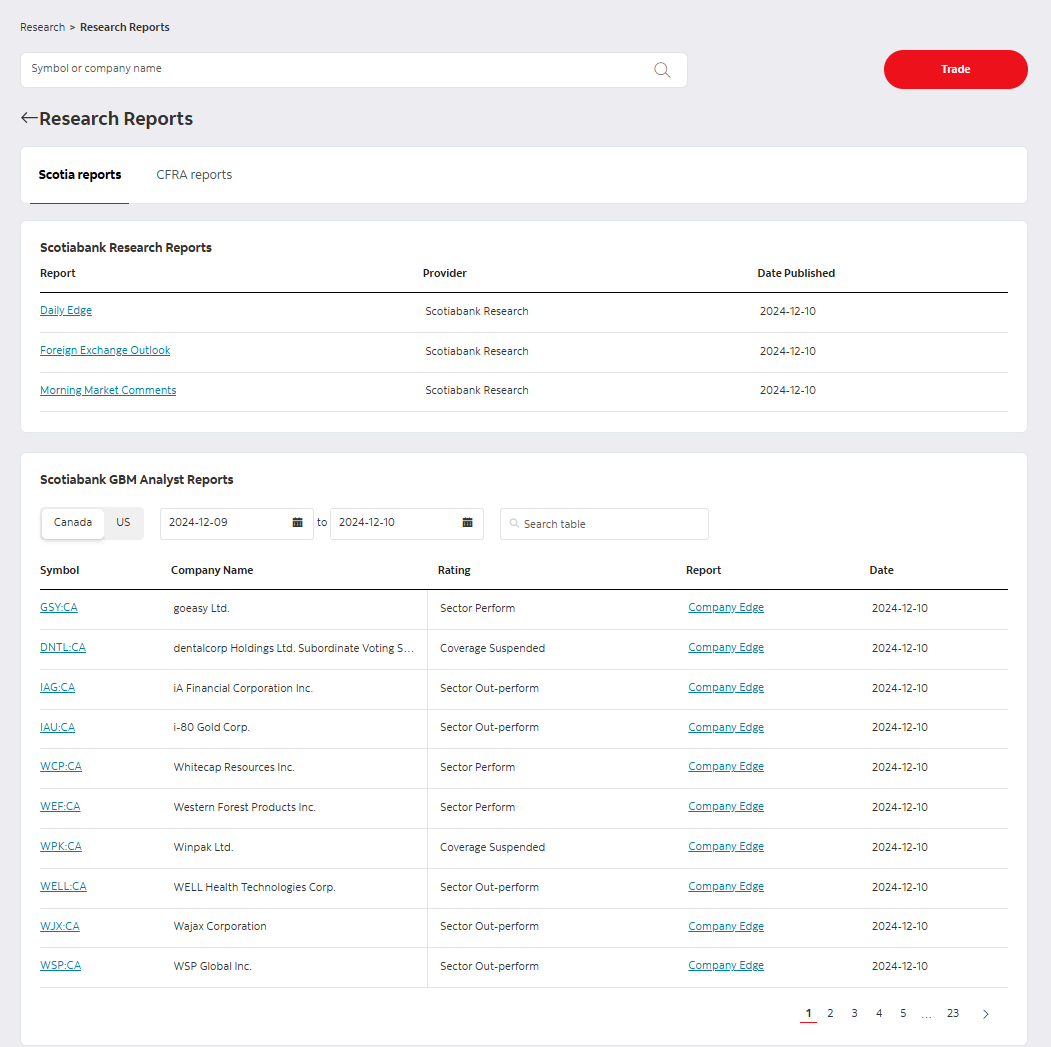 1
All research, analysis, charting, reports, estimates, commentary, information, strategies, data, opinions and news (collectively, the "Research") are provided to you for general informational purposes only and do not address the circumstances of any particular investor. Except for Scotiabank Global Banking and Markets research, all Research has been prepared and supplied by independent third parties that are not affiliated with Scotia Capital Inc. or any of its affiliates, and accordingly may not have been, and no representation is made that such Research has been, prepared in accordance with Canadian disclosure requirements. Neither the Research nor the profiles of the third party research providers have been endorsed or approved by Scotia Capital Inc., and Scotia Capital Inc. is not responsible for the content thereof or for any third party products or services. Scotiabank Global Banking and Markets research is provided by Scotia Capital Inc. Scotia Capital Inc. and/or its affiliates may have acted as financial advisor and/or underwriter for certain of the corporations mentioned in the Research and may have received and may receive remuneration for same. Scotia Capital Inc., its affiliates and/or their respective officers, directors and/or employees may from time to time acquire, hold or sell securities mentioned as principal or agent. Nothing in the Research constitutes a recommendation by Scotia iTRADE to buy, sell or hold any security discussed therein, and the Research neither is, nor should be construed, as an offer, or a solicitation of an offer, to buy or sell securities by Scotia iTRADE. Scotia iTRADE does not make any determination of your general investment needs and objectives, or provide advice or recommendations regarding the purchase or sale of any security, financial, legal, tax or accounting advice, or advice regarding the suitability or profitability of any particular investment or investment strategy. You will not solicit any such advice from Scotia iTRADE and in making investment decisions, you will consult with and rely upon your own advisors and not Scotia iTRADE. You are fully responsible for any investment decisions that you make and any profits or losses that may result. Any opinions, views, advice or other content provided by a third party are solely those of such third party, and Scotia Capital Inc. neither endorses nor accepts any liability in respect thereof. No endorsement or approval by Scotia Capital Inc. or any of its affiliates of any third party product, service, website or information is expressed or implied by any information, material or content contained in, available through, included with, linked to or referred to in the Research, on the Scotia iTRADE website or in any other Scotia iTRADE communication. Neither Scotia Capital Inc. nor its affiliates accept any liability for any investment loss arising from any use of the Research or its contents. Scotia iTRADE is a division of Scotia Capital Inc.