All the tools you need for self-directed investing are right at your fingertips
See your entire financial picture, all on one screen:

With all of the educational resources available you can enjoy trading with ease from desktop or mobile whether you're a first time investor, or looking for a more powerful platform to make the most of your investments. Enjoy access to in-depth investment research and analysis, fully customizable market data platforms and your choice of investments. With Scotia iTRADE you get convenient, fast access to all of your accounts with one sign on.

Get access to Scotiabank's in-depth research capabilities
Pay bills, right from your online brokerage account
Manage and transfer funds between your Scotia iTRADE online brokerage account and Scotiabank bank accounts.
Set-up and make future dated transactions
Access easy fund transfers (CAD and USD) between any bank account in Canada and Scotia iTRADE.
Some great reasons to join Scotia iTRADE today.

You get low commissions, powerful trading platforms, exceptional service and more.

Name and contact information
Social Insurance Number (with your Social Security Number for U.S. Citizens)
A photocopy of your Canadian photo identification (Driver's License (both sides), Passport, Age of Majority Card, Citizenship Card, Permanent Residence Card)
A Scotiabank deposit bank account or a cheque deposited and cleared from another Canadian financial institution
Ensure you include a mailing address
Photocopy of identification; both sides of Driver's License
The account opening form will ask you to fill in your banking account information more than once; Don't forget to enter it in both times
"How did you hear about us?" Your promo code for this section will be ADVMKT unless you have a special promotion code
Don't forget, after you select "Print Summary" to print your application, you must also press "SUBMIT" in order for your account to be processed
Don't delay in sending all signed documents immediately so you can begin trading on your account.
Individual Account: An account in your name only.
Joint account: An account owned by more than one individual. There are two types of Joint accounts, Joint with Right of Survivorship and Joint Tenants in Common.
Right of Survivorship: A form of account ownership, which allows all owners to operate the account individually. On the death of any owner, the entire interest in the Joint account becomes the property of the survivor(s) - not available in the Province of Quebec.
Tenants in Common: A form of account ownership, which allows all owners to operate the account individually. On the death of any owner, the interest in the account is divided equally unless otherwise specified at the time of account opening.
Power of Attorney: This is an individual who is assigned by the owner to assume control over the account. A power of Attorney can be limited to buying and selling securities within an account, or can be granted full authority including withdrawal of money.
Guarantor: A Guarantor is an individual who promises to repay any indebtedness of the account to Scotia iTRADE if the owner does not meet their obligation.
Interested Party: This is an individual selected to receive account statements or trade confirmations.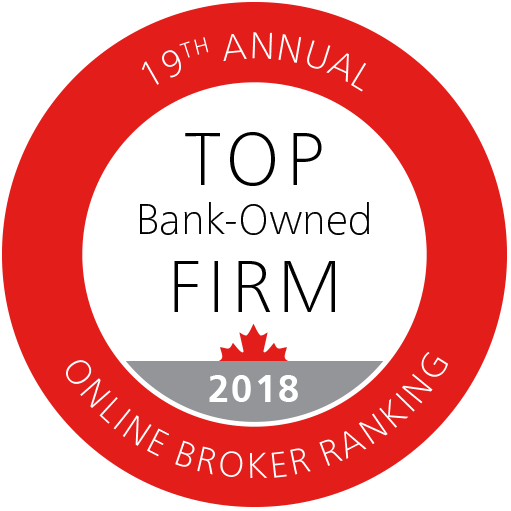 Top Bank-Owned Firm for 2018

19th annual review of Canada's online brokerages by Rob Carrick of The Globe and Mail.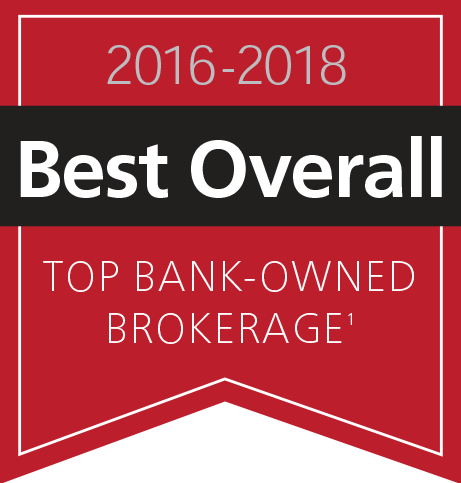 Best Overall Top Bank-Owned Brokerage 2016 – 2018

6th annual report on the best online brokerages in Canada from MoneySense Magazine, in partnership with Surviscor.

SQM Call Center Best Practice Award 2014 – 2016
Call Center First Call Resolution Best Practice Gold Award – 3rd year in a row

Apply now
Visit

44 King St. West, Toronto, ON
Scotia Plaza (Lower Concourse)
Monday - Friday
8:30 a.m. – 5:30 p.m. ET

1
To qualify for commissions of $4.99 flat per Canadian or US equities trade and $4.99 + $1.25/contract for each options trade, you must, during the immediately preceding calendar quarter, execute at least 150 commission-generating equity or options trades. Accounts with less than 150 commission-generating trades within a calendar quarter will qualify for commissions of $9.99 flat per Canadian or US equities trade and $9.99 + $1.25/contract for each options trade. Commission-generating trades are buys and sells of: Equities, Options, Mutual Funds subject to commissions and Fixed Income instruments. Buys and Sells of GICs, ETFs which do not generate a commission, Canada Savings Bonds and Provincial Savings Bonds are examples of trades that are not commission-generating. You must re-qualify each calendar quarter. New qualification status will be effective on the second business day of the calendar quarter. Fees for US transactions are charged in US dollars.